What is a faraday cage? Electromagnetic shielding. Read more about faraday cages for modern homes. Find you own canopy and faraday cage here!
The highest shielding in the world of faraday cages
Faraday cages are named after scientist Michael Faraday, who invented them in 1836.
Faraday cages block electromagnetic fields (EMF). 
They are made out of metal and shield all around, like a cage.
What are Electro Magnetic Fields?
Electric fields. 

Magnetic fields.
Electric and magnetic fields
EMFs are both
Electric fields and magnetic fields from HF (High Frequenzies) and LF (Low Frequenzies).
Radio Frequencies (RF). These are HF, High Frequenzy. Both microwaves and radio waves are radio frequencies. In daily term, we call it mobile phone radiation from WiFi, mobile phones, masts and antennas, Bluetooth, smart meters, and wireless devices.
Electromagnetic shielding
Faraday cages block EMFs. 
Modern faraday cages are made out of fine masked metal mesh or silver coated canopy net.
You can see throgh the mesh or the tiny net holes.
Faraday cages both shield electric and magnetic fields
Radio frequencies have both electric and magnetic fields.
This means that Faraday cages both shield electric and magnetic fields.
How does a faraday cage work?
The Faraday Cage stops electricity and electromagnetic frequencies from entering the cage, affectivly insulating any object inside from electricity.
Faraday Cages Explained [IN UNDER 3 MINUTES]
Faraday cages and electrostatic shielding
Electrostatic shielding.
Please notice that a faraday cage that must shield against RF and other wireless radiation the holes must be much smaller than of the one in this video. It´s because the EMF waves from RF are small enough to enter a faraday cage with big holes, so it needs tiny holes.
Professor Krishna Rajagopal explains Faraday Cages and why it's not such a bad thing if you're in a lightning storm as long as you're inside a car.
Read more about faraday cages here
Are you looking for your own faraday cage?
Ehsshield offers the highest protection against wireless radiation in the world of faraday cages.
Faraday cages in silver net.
Our faraday cages for sleeping are tested up to 10 GHz.
They are 5G tested.
Read more here!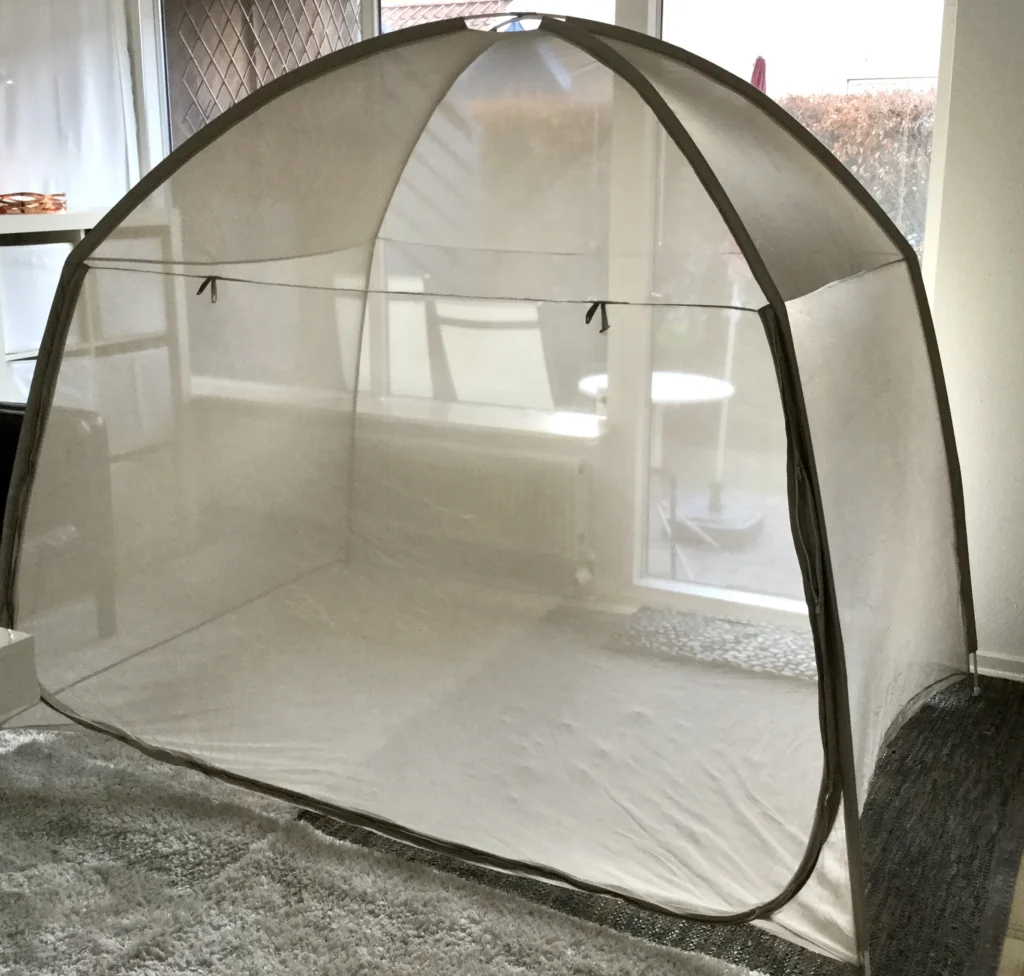 Faraday Cage.
Read about faraday cages here. 
This is our frontpage.
Faraday cages in metal made with tiny mesh holes.
Copper, bronze, stainless steel, and brass.
Faraday cages and sleeping
We recommend Faraday cages in silver net for modern homes to shield against wireless radiation
Here you can see a Faraday cage made out of silver canopy net. 
Faraday cages made out of net
Faraday cages made out of Silver canopy net are ideal for sleeping and for modern homes.
They have so tiny holes that the holes are not measured in mesh. The holes are not square either. They are tiny tiny.
The protection is measured in dB. Please be aware that the shielding varies depending at what GHz the radio frequenzy radiation is.
The best possible protection for Faraday Cages made out of silver net is 51 dB and is offered by Ehsshield.
Sign up for our newsletter
Subscribe to our newsletter!